La Puebla Welcomes ASI Convention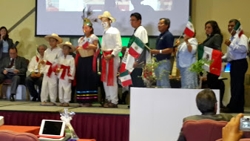 The Annual Convention of the Inter-America Division Adventist-Laymen Service and Industry (ASI) commenced at the Holiday Inn Finsa in Puebla, Mexico on Wednesday August 13th,2014. The program commenced with a cultural presentation by the local chapter, which was followed by the parade of nations where the various countries which were being represented at the session appeared in their national dress and bearing their nation's flag. After the opening preliminaries were concluded the meeting was addressed by Pastor Abraham Sandoval, Union Secretary for the Inter-Oceanic Mexican Union, who welcomed us to his Union and wished for us a very enjoyable convention. The local ASI Chapter President also gave greetings after which Dr. Marston Thomas, President of ASI-IAD expressed how delighted the organization was for the warm and hospitable welcome which it had received by the local ASI members and the city of La Puebla in general. He promised four wonderful days of power packed actvities in seminars, bible studies, testimonies, prayer and praise and networking.

ASI has always received cordiality from the local civic leaders during its conventions in various cities around the region, and this year was no exception as special greetings and welcome were given by Mr. Jose A. Fayad, President of the Municipality. He extended the hand of friendship and warm Mexican welcome to the gathering and wished for us a memorable stay in La Puebla. Pastor Leon Wellington, Vice-President of the Inter-America Division and Executive Secretary of ASI-IAD then presented the program overview for the convention. and introduced the guest speaker for the evening, Pastor Eliie Henry.

Pastor Henry is the Executive Secretary of Inter-America Division head-quartered in Miami, Florida. He was previously the Vice President of the Division and Chairman of the Boards of Education, the Biblical Research Committee and Director of Human Resources. Prior to joining the Division he was Secretary , then President of the Haitain Union, before which he was Professor and Dean of the School of Theology at the Haitian University. Dr. Henry holds a degree from the Universidad Adventista del Plata in Argentina, and Masters and PhD degrees from the Universite de Strasbourg in France. He also studied at the presitigious Ecole Biblique et Archeologique Francaise de Jerusalem, Israel, under a scholarship from the Louvre Museum. Dr. Henry delivered a moving and passionate sermon during which he challenged ASI to live out its motto and be an integral part of the closing work of the gospel.