ASI-IAD ENGLISH CONVENTION 2022 TO BE HELD IN BARBADOS
NOVEMBER 9-13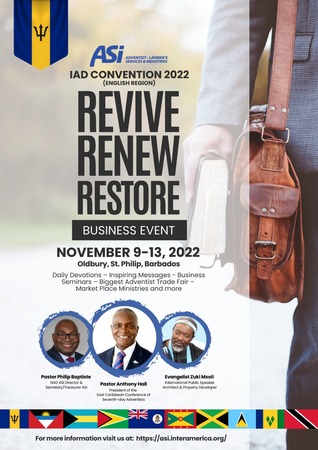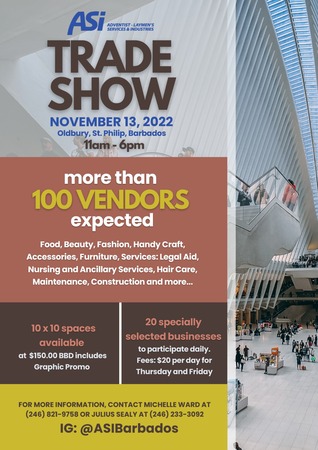 Click Here to Register for Convention
Click Here to Register for Trade Show & Business Fair
We are delighted to extend a special invitation to our  Adventist Laypersons 
Services & Industries - ASI Inter-America English Region Convention that will be held 
from Wednesday, November 9,2022 to Sunday November 13,  under the theme "Revive, Restore, Renew"
The event will be hosted by the ASI Barbados Chapter in St. Phillip, Barbados and 
promises to deliver informative seminars, and Spirit-filled devotional sessions that will 
be conducted by several dynamic presenters throughout the five days.
We will begin on Wednesday night at 7:00 p.m. with Pastor Phillip Baptiste, Director and Secretary/Treasurer of ASI North America.
On Thursday November 10th we will hear from Evangelis Zuki Mxoli, International public speaker, architech and property developer.
The Friday night program will be hosted in its entirety by our energetic Youth arm, Mission 2000 and Beyond.
On Sabbath, Pastor Anthony Hall, the dynamic President of the East Caribbean Conference of Seventh-day Adventist will be our speaker for the Divine service.
Several professional and informative training seminars, and spirit-filled morning 
devotions will be hosted by a different country each day. Powerful prayer and praise 
services, soul-stirring music, chapter reports, cultural presentations, business 
expositions, along with a big International Gospel Music concert on Saturday night, international business forum, are among the many 
features of the Convention.
On Sunday we will climax a big ASI Trade Show where we expect over 100 vendors, including international and commuity based enterprises to participate. This promises to be a event not to be missed, and so we invite you to join us in Barbados
Register at www.asi.interamerica.org and share in this exciting event.
Yours in Christ
Rohan Riley
Vice President 
ASI Inter-America Division