ASI IAD President Conducts Revelation Seminar
Presenter, Dr Marston Thomas
Metro Mission 2014 (MM14) came alive in the Drews land Community from January 31 to March 2, 2014. This happened when Dr Marston Thomas, ASI IAD President, with the aid of the Holy Spirit raised the spiritual awareness of the 45 registered participants and other supporting members as he presented 24 life changing lessons in a Revelation Seminar.
Along with other Seventh Day Adventist churches in Kingston, the Washington Gardens church, situated at 41 Headley Avenue in Kingston 20, embarked on a mission to continue its positive impact on its immediate environs. The objective was met as 'The "Star" of the Drama of Revelation' and other topics were presented in an interactive format.
Six lessons were presented each week over the four week period. At each session, the host, Janeine Laing anchored the activities by recapping details of the previous lesson, engaging the audience through question and answer sessions and introducing special features. The features include presentations on Community Building, Health and Family Issues, Youth issues and a Prayer Tower.
The Washington Gardens church is known for its rich musical offerings. This tradition was maintained as at each session rich music was used to set the tone for the dynamic presentations by Dr Thomas. Frequently heard and little understood topics like "The Mark of the Beast" were explained. As the seminars progressed the truths of Revelation, which to some participants were considered difficult, were made plain.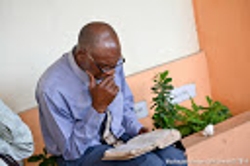 Seminar Attendee contemplates as he reads the Bible
With clearer understanding of the end time prophecies and a sense of urgency, commitments were made by church members and visitors to live in such a way as to avoid "The Mark of the Beast" and accept "Righteousness by Faith". By the end of the Seminars, there were three baptismal services with a total of seventeen souls added to the kingdom of God. Other prospects are being followed by the presenter and team.
One of the regular attendees stated that the seminar could not have come at a better time as everyone needs to have some basis for hope.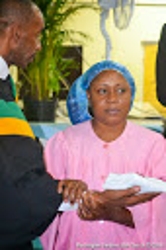 Baptism of Seminar attendee being conducted by Pastor, Dr Meric Walker
Seminar Coordinator, Dale Flynn and the leadership team of the church gave oversight to the program. The well executed seminar ended with the graduation of 25 participants, changed lives and empowered individuals thus fulfilling the mission of Metro Mission 2014.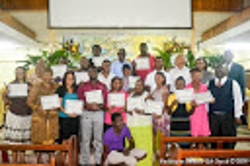 Graduates of the Seminar with the Presenter
(right) and other leaders
Submitted by Communication Department Washington Gardens SDA Church