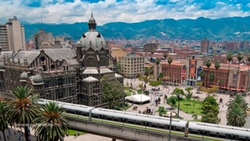 ASI Convention 2016 to be in held in Medellin Columbia


At the meeting of the ASI Inter-American Division Board of Directors, held in Miami, USA on Thursday September 17, 2016 the decision was voted to host the next annual ASI Inter-America Division Convention in the city of Medellin, Columbia.

Oscar Otalvaro a special invitee to the meeting from the ASi organization in Columbia promised a wonderfull time for all who attend and spoke of the many events and features which they would be able to enjoy.

Medellín (Spanish pronunciation: [meðeˈʝin]), officially the Municipality of Medellín (Spanish: Municipio de Medellín), is the second-largest city in Colombia and the capital of the department of Antioquia. It is located in the Aburrá Valley, a central region of the Andes Mountains in South America. According to the National Administrative Department of Statistics, the city has an estimated population of 2.44 million as of 2014.[1] With its surrounding area that includes nine other cities, the metropolitan area of Medellín is the second-largest urban agglomeration in Colombia in terms of population and economy, with more than 3.5 million people.