President Dr. Marston Thomas Returns as New Board is Elected.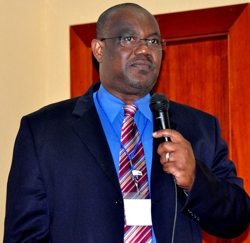 The nominating committee of the 13th Annual ASI Convention elected it's new Board of Directors to lead the organization for the next two years was returned as president to continue the programs and projects which were initiated during his first term. Pastor Leon Wellington was also returned as the Secretary and Sis. Ivelisse Herera as Treasurer. Four Vice-Presidents were elected from the various regions, namely Victor Johnson (English), Jonatan Camargo (Spanish), Rolando Garcia(Spanish-2), and Jean Holder(French).
Lyndon Antoine continues as the Projects and Evangelism co-ordinator, and Rohan Riley as the Public Relations Officer. The Board is completed with the ASI Union Chapter presidents and Union Secretary/Treasurers, along with two floor members, as listed below.
Union Chapter Presidents:
Caribbean Union: Gem Rholier
Dominican Union: Miguel Angel de la Rosa
Inter Oceanic Mex. Union: Francisco Penada
Jamaica Union: Judy Morgan
Venezuela: Manuel Mujica
South. Central American Union:
Fr. Antilles Guyana Union:
Union Secretary/Treasurer
Atlantic Caribbean: Roderick Sands
Caribbean Union: Theodore Jaria
Dominican Union: Moises Javier
Inter Oceanic Union: Abraham Sandoval
Jamaica Union: Princess Lawes
South. Central America U: Silas Martinez
Venezuela Union: Fernando Toala
Floor Members/Vocales:
Jorge Irias
Margarita Aponte